May 2009 :
Snowy Northern Circuit adventure !
---
At the end of May I did the Tongariro crossing and there was only a little snow and I had hoped for more so this time I waited until I knew there would be more snow - I had wanted a bit more of an adventure . But this time I was going to do the northern circuit which includes the scenic part of the crossing and a night at the hut followed by a 25km walk back to the village the next day .
On Monday night I was told that there would be organized transport to the beginning of the track at 9am so I wouldn't have to walk the 9km from the Chateaux so Tuesday morning I took some pictures while I waited for the visitor centre to open so I could fill in a form stating where I would be and when I would be back .




When the visitor centre opened at 8 am they told me the organized transport had already left [ some people pay $150 for a guided trip up into the snow ] so I went back to the camp cafe where they arrange some transport .
They phoned through to one of the transport companies , made some quick arrangements and I was told I had 20 minutes to be ready which is where things started going wrong - in my hurry I forgot to pack my waterproof rain pants .
When the driver picked me up he told me he wasn't going to the beginning of the track , there was a misunderstanding and he could only drop me at the road leading to the track - an extra 7km walk .
I never had much choice so off we went .

Nguaruhoe in the distance while walking up the road ....




Ruapehu to the side .....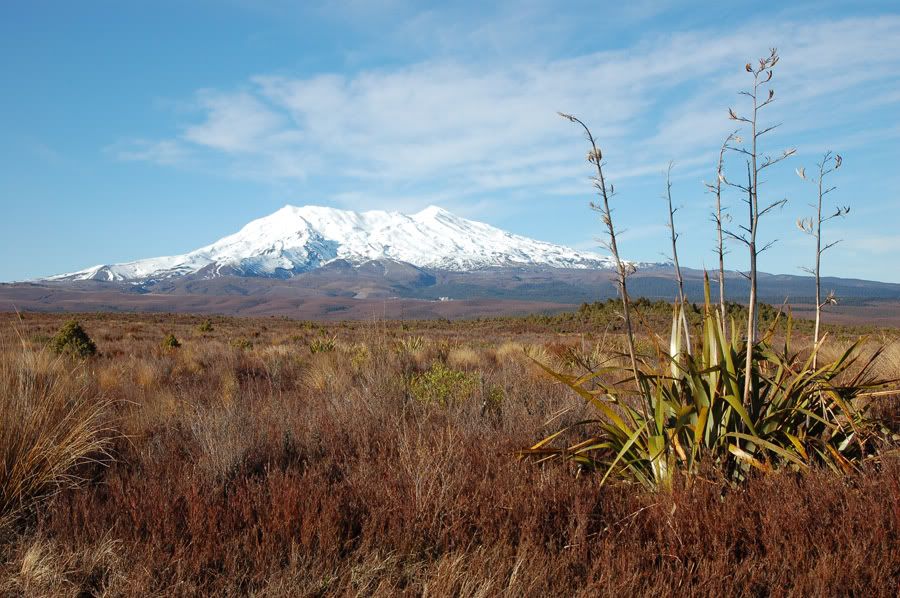 And here's a map of the journey starting at the bottom of the road ..... [Those numbers '5 1/2 ' etc. are wrong - they were written there when I was trying to work out some distances and thought each division was 5km instead of 10 km ]

It took just over an hour and 10 minutes to get that first 7km out of the way - I was going rather slowly because my pack was probably the heaviest its ever been - over 25kg because I had all my snow gear including another pair of boots . My 'normal' boots don't do too well in snow and my alpine boots give me blisters on anything other than snow so I had to carry both pairs , plus crampons , ice axe , food , clothing -30 degree sleeping bag , emergency shelter , small knife , big knife , machete ..... all the essentials :smile:
I saw two other DSLR's on the trip besides all the compacts - a Nikon D40 and a Nikon D90 - no Canon cameras .
I had my trusty old D50 and Tamron 17-50 lens .
I wasn't too happy with the amount of snow - I had wanted much more to make it a bit more difficult . Apparently the snow was much lower earlier and I was told that 5 days ago the ice on top was so hard that even the crampons weren't holding and climbers had to cut steps to get up .




Obviously enough high winds to have to chain the toilet down - you wouldn't want it blowing away - especially if you're in it


Then the weather started closing in .....



On the opposite ridge I had seen the organized tour heading for Tongariro summit .




As I got to the top of the first climb I saw someone running down the side of Nguaruhoe and waving and thought that perhaps there was something wrong ?




I came around the corner to get behind some rocks so I could get my serious gear on and found "

Romina"

from Argentina " waiting for her friend " Tina from Germany " who was running down the mountain , it turns out they were doing almost the same walk and were heading for the same hut as me so we decided to travel together . That was when I found out that in my haste I hadn't packed the rainproof pants but decided to keep going rather than turn back - if things get nasty I always have my emergency shelter .


So we headed off into the fog following the wooden marker posts in the ground .....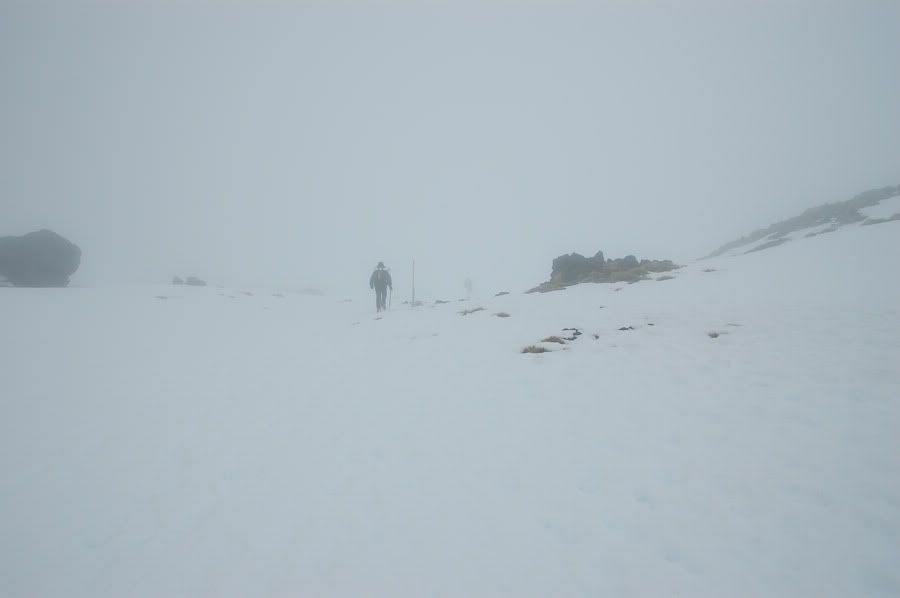 Last time there was a thin layer of snow and a few ice patches , this time the poles were shorter meaning a thicker layer . I was going through the snow and ice more often than the girls because of my extra weight [ the pack of course ] and once or twice we hit 'slush' where we sunk into wet slushy snow - this particular time I ran as I kept going deeper - wondering how deep it would go but luckily it wasn't too deep .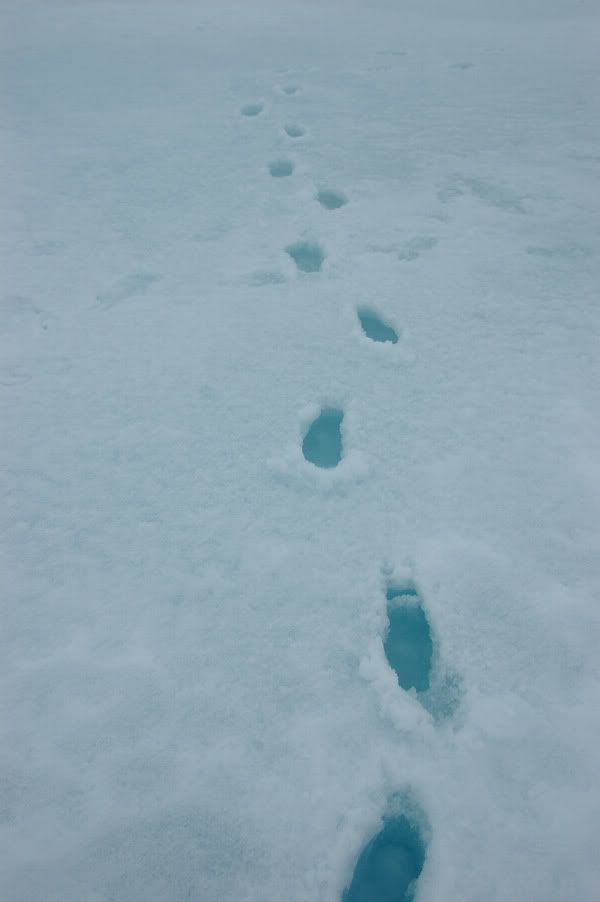 And then we headed up to the red crater




and the clouds started moving away


Was the snow deep or was the pole short ?




My gear was doing ok ....




A look across at blue lake ....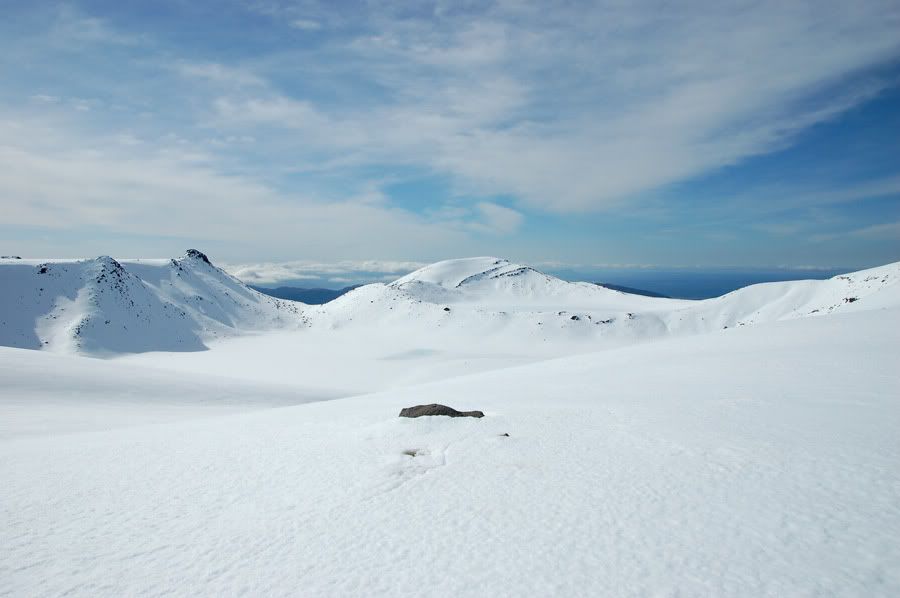 there were some patterns in the snow ....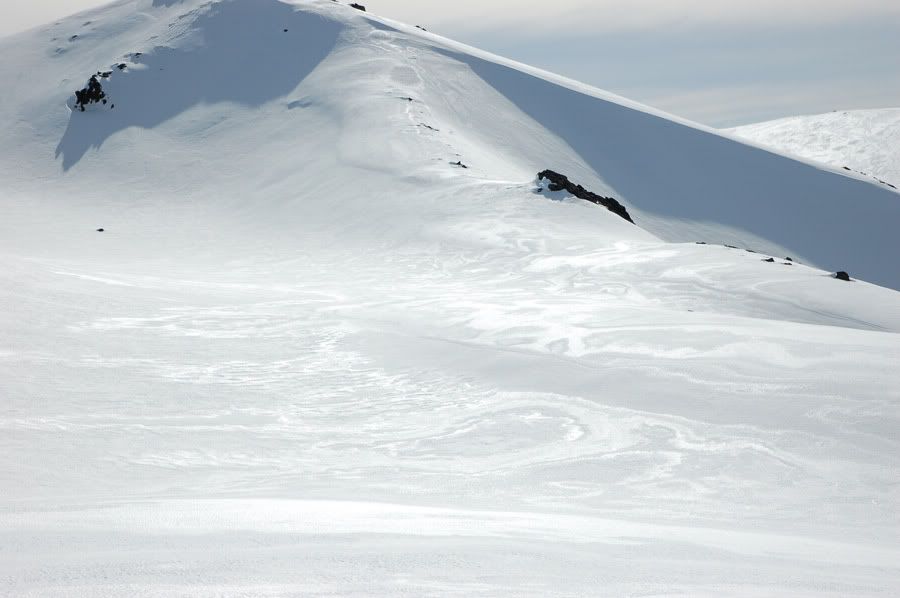 Don't walk too close to the edge !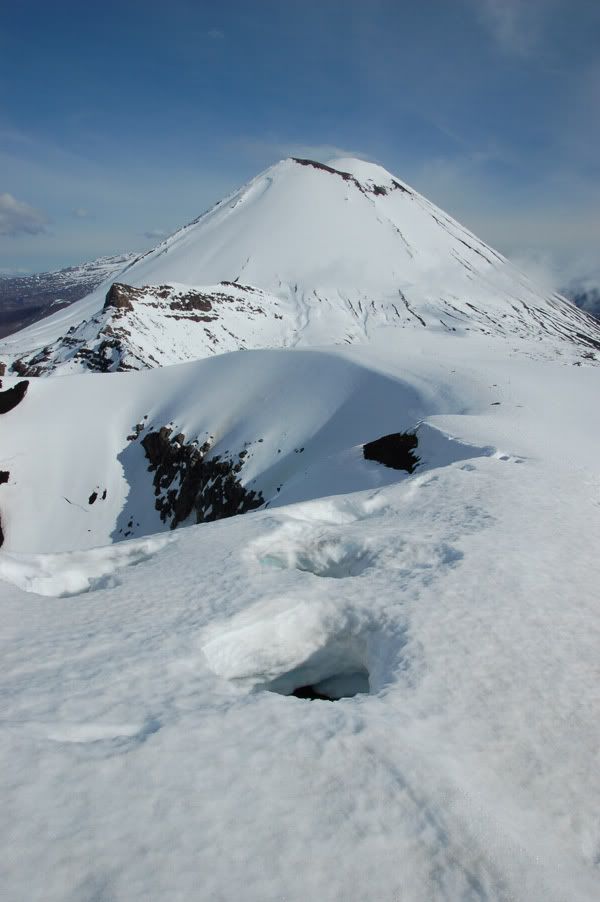 Red crater steaming away .....




The emerald lakes were a bit snowed up




someone had taken a short-cut across the crater ....


After the emerald lakes we started heading down ....




and suddenly it's a different world with different scenery




Tina was also carrying a reasonable size pack ...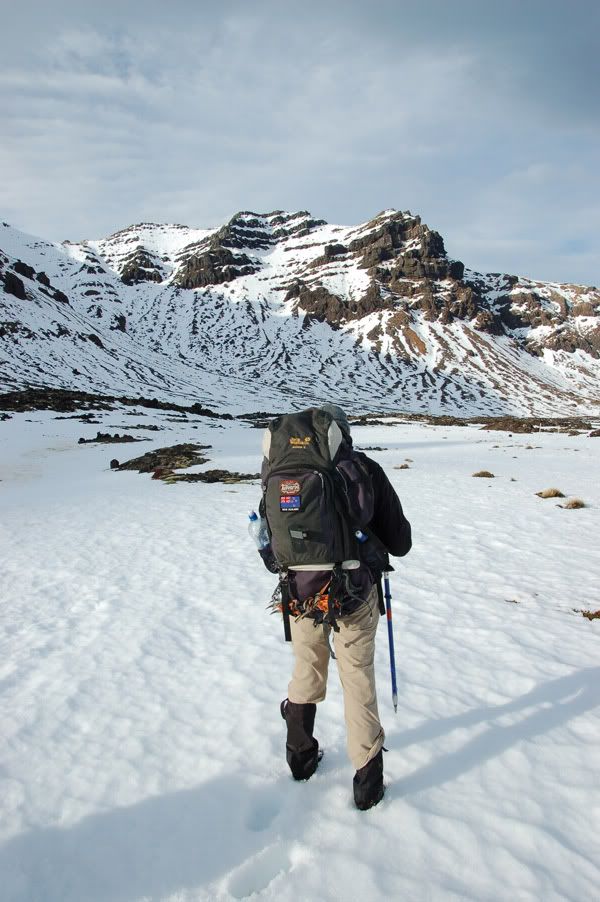 We were all pretty tired , and after eating , the girls were in their sleeping bags by 7:00 pm - I waited till 8 and I think got about 5 hours sleep in total , noises outside , aches and pains and just about being too tired and sore to fall asleep . At 11 it started raining - heavy ! I spent most of the night waking up and listening to hear if it was still raining since I never had my rain pants with me .
In the morning it was still raining but the weather was quite warm .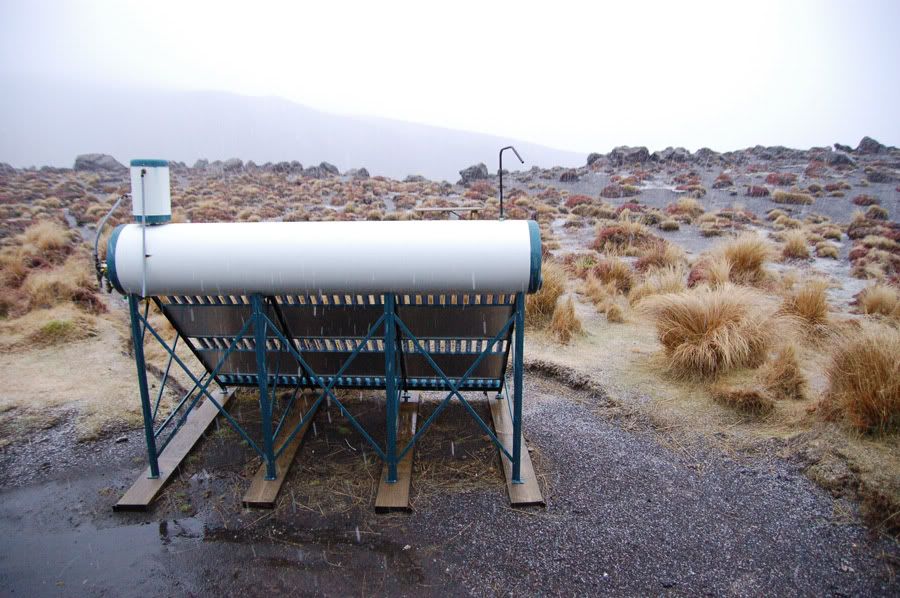 Then suddenly it stopped raining , the weather went cold and it was snowing .


And these are the last few pictures before I had to put the camera away .


Romina

getting ready to go ...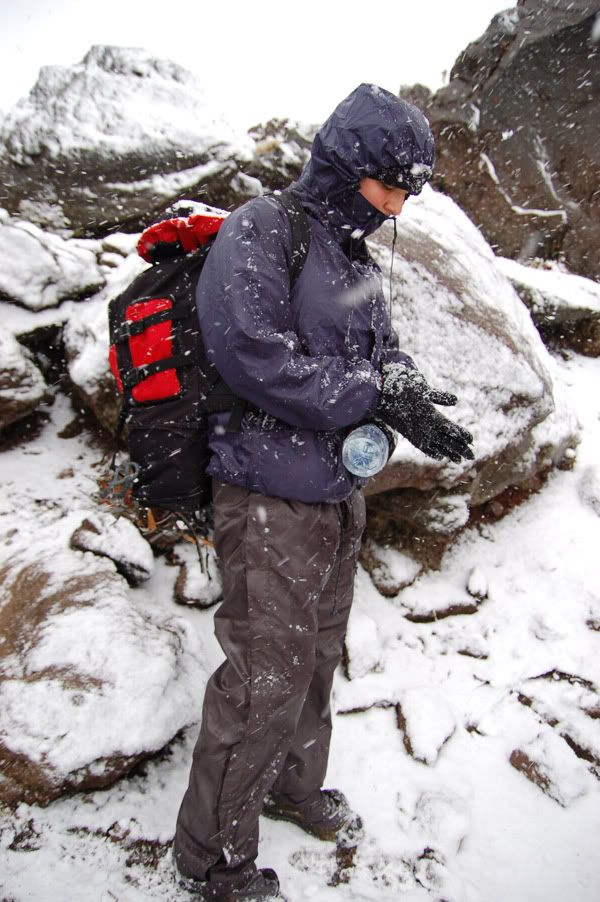 I wasn't sure which was worse , warm and wet or cold and snowy but at least we only had one to contend with . I eventually resorted to cutting my emergency blanket in half and wrapping it around my legs before we left , I also put on my track pants over it all . It probably made a difference , I was a bit sweaty at first but eventually I was soaked and when we got to a little bit of shelter I took one last shot of my pack before hiding the camera at the bottom with some dry clothing - each time I checked on my camera there was some water on it so I decided it was time to stop taking pictures .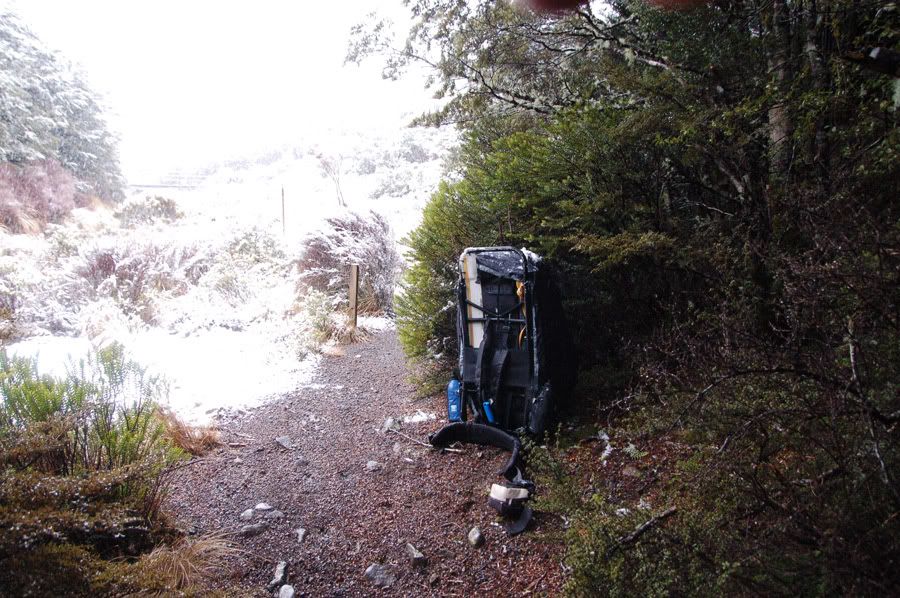 I had seriously considered leaving my fleece jacket at home because I thought my alpine jacket would do a good enough job but I really needed it ! After we got down to Waihohonu hut I put my fleece jacket on because I was rather cold , and then the alpine jacket over that - somehow water was getting in everywhere and my hands were cold - I got my gloves on but when I took them off later I couldn't get them back on because my hands were wet so resorted to pulling my hands up inside my sleeves .
The snow kept falling , we had about 10 km to walk to the hut and after that about another 15km to walk back to Whakapapa village . The girls had parked at the beginning of the track so to save them an extra 8km walk I offered to give them a lift back to their car if they walked to the village where my van was .
So we all kept going to the village , the last part of the walk is relatively flat compared to what we had been through but the weather was getting worse and I seriously wondered how long I could last on the ridges when the snow turned to small ice particles blowing in our faces . My old H-frame pack is getting a little tired and the strap kept jumping out on the left side while the waist belt kept slipping , it wasn't a comfortable walk back - mud puddles , slipping and falling in the snow , adjusting the straps with cold wet hands , the last few hours seemed to take forever ...... it was one of my best trips ever !
When we finally got back I dropped the girls back at their car ,we said our goodbyes and they mentioned the fact that they were heading to Taupo and the hot pools and I thought of my cold van at the campsite ..... and headed for National Park where I saw a sign at a ski lodge advertising spa baths . $70 Dinner bed and breakfast was pretty good and I got to talk to one of the guys who worked in the kitchen about his D80 and photography .
The next morning the mountain looked really good .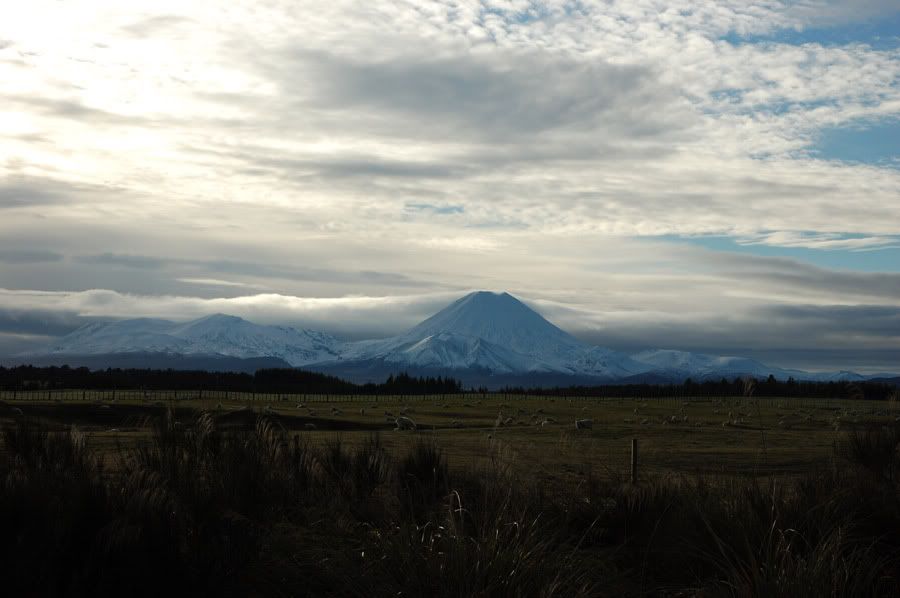 It's been a while now but last week [ 20 March 2010 ] I got an email from Tina who is back home in Germany and finally managed to find the card I left with her . It turns out that after I dropped them off at their rental car and left .... she managed to lock the keys in the car and ended up having to walk all the way back to Whakapapa village to get the AA out to get the car open again !